License link_support FAQ Instruction Reviews How to install History
This module runs on OpenCart 3.0.
If you need a module for versions 2.1.x, 2.3.x - please, here you are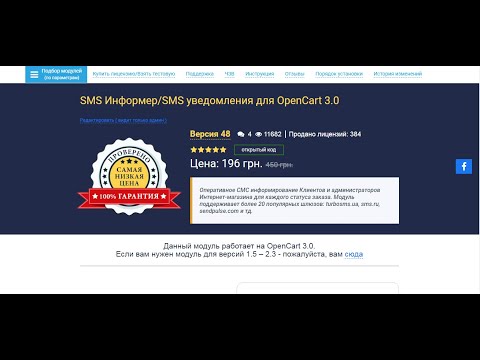 Module information
Immediately after placing the order, you can download the license and module files in the Dashboard
People often leave the application for the purchase of the evening, sometimes in the night, worried that their order was done on time and efficiently. Our module to be concerned about their peace of mind for You!
Attention! Module SMS widget is already installed in such developments and does not require additional purchases:
After installation and setup, You'll be able to customize your online store the following functions:
Autocompletion data from order directly to the SMS text
The ability to connect more than 20 services, bulk sms
Specifies a group of users for whom you want to send sms notifications
The logging support for sending notifications that will help you identify problems in sending messages (useful for developers)
and below, see "Additional benefits module"
Module from NeoSeo SMS widget for online stores on OpenCart sends pre-programmed sms. It's a trifle, but allows us to solve a lot of "awkward" situations.
Imagine that someone has placed an order and are waiting for the call operator, and in Your office lost electricity/Internet/Manager/the end of the day or something, it happens.
After waiting some time without receiving the order confirmation, slow or troubled the customer simply go for the same product in other online store. And get automatic SMS "Good afternoon, Your order is accepted, expect a call to our Manager tomorrow after 10 am", you will feel yourself a participant of the running process and have nowhere to stay.
Module "SMS widget" supports the following gateways:
alphasmsua
bmitelecomru
bsg
bytehandcom
epochtasmscomua
infosmskaru
kazinfotehkz
letsadscom
mainsmsru
prostorsmsru
semysmsnet
sendpulsecom
sms4bru
smscabru
smscru
smssmscomua
smstester
tele2ru
telegram
turbosms
unisenderru
vipsmsnet
You are free to install it – all the instructions are in the file readme.txt that will appear after unpacking the module archive file
Discussion, questions and answers, support SMS module widget/SMS notifications for OpenCart in this thread on the forum: https://www.opencartmasters.com/forum/75-sms-informer/.
Additional module benefits
Automatic substitution of data from the order directly to SMS text.
Ability to specify the message text for each status in all languages of the store.
Ability to specify the message text for each status for the administrator.
The ability to customize the sending of messages depending on the status (forcibly, that is, it will always be sent, on — only if the customer notification mark is selected, never — disabled).
Ability to connect more than 20 sms-sending services.
Specify a group of users for which you want to send sms-notifications.
Logging support for sending notifications to help identify problems in sending messages (useful for developers).
You are buying:
License cost:
(+2 reward points)
Free[all functions are provided]
[ on 1 domain, unlimited, updates for free ]
Support
Free informational support is provided on the forum
OpenCartMasters.com
- please write your questions there, we will be happy to answer them!
Extended Support
You can purchase extended module support, which includes:
installing and configuring the module on your site;
adapting / styling the module to your template;
2 hours of the programmer for individual modifications of the module, which you can use for 365 days.
Extended support cost: from $ $49.
To order extended support or clarify details, write to our Telegram chat.
System Requirements
System requirements: PHP 5.3 - 7.2 ocmod for 3.0
ioncube loader: 6.0 and higher
OpenCart: 3.0
License Type: for one domain and its subdomains
Activation method: automatically upon purchase or upon request by mail info@neoseo.com.ua