License link_support FAQ Instruction Reviews How to install History
This module runs on OpenCart 3.0
If you need a module for versions 2.1.x, 2.3.x - please, here you are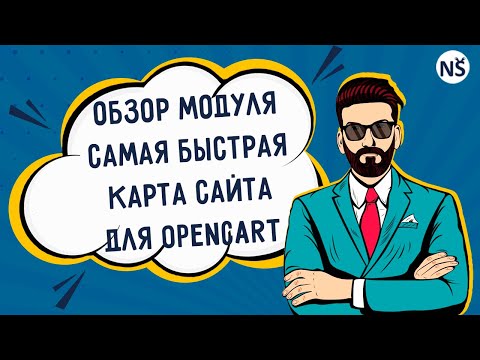 Module information
Immediately after placing the order, you can download the license and module files in the Dashboard
The site map is an important tool allowing rapid indexing of each page and move it to the top. Usually the duties of control and create a site map is on the programmers, but if You plan to host a website with no outside help, or want to save some money, select the module that allows you to quickly generate a site map. You change the module immediately have them in the site map, keeping in the database. No extra action, but the fast indexing.
Capabilities of the Generator Sitemap.xml (site map):
Very quickly forms a current site map on every request file;
Can split the map into pieces 1 000, 10 000, 20 000 products, etc the Number of items for parts determined by You in plugin settings;
Supports the landing page, created with SEO-filter;
Allows you to select the system of formation of CNC: SEO Pro and SEO Url;
Supports multilingual NC;
Supports multistore;
Generates a map of the link sitemap.xml without performing a redirection to the CNC format index.php?route;
Supports the compression of the card;
Allows you to specify the update Frequency and Priority updates for specific types of pages from the admin area;
Supports filters: FilterPro SEO, SEO FilterVier, OcFilter SEO, SEO MegaFilter.
Example Sitemap-product.xml shown in figure:
Discussion, questions and answers, support module Site Map for OpenCart in this thread on the forum: https://www.opencartmasters.com/forum/17-karta-sayta-sitemapxml/.
Additional module benefits
Selection of the CNC forming system (SEO Pro, SEO Url).
Support for multilingual CNC.
Ability to break the map into parts of the required size.
Support of multi-stores.
The ability to compress the site map.
Possibility of adding to the site map links to landing pages.
You are buying:
License cost:
(+2 reward points)
Free[all functions are provided]
[ on 1 domain, unlimited, updates for free ]
Support
Free informational support is provided on the forum
OpenCartMasters.com
- please write your questions there, we will be happy to answer them!
Extended Support
You can purchase extended module support, which includes:
installing and configuring the module on your site;
adapting / styling the module to your template;
2 hours of the programmer for individual modifications of the module, which you can use for 365 days.
Extended support cost: from $ $49.
To order extended support or clarify details, write to our Telegram chat.
System Requirements
System requirements: PHP 5.3 - 7.1 vqmod для 1.5 ocmod для 3.0
ioncube loader: 6.0 and higher
OpenCart: 3.0
License type: One domain
Activation method: automatically upon purchase or on request by mail info@neoseo.com.ua