License link_support Instruction Reviews How to install History
This module runs on OpenCart 3.0.
If you need a module for versions 1.5.x– 2.x - please, here you are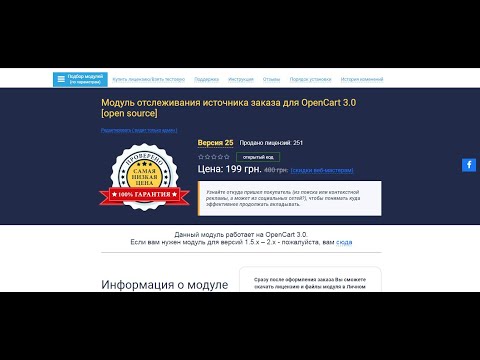 Module information
Immediately after placing the order, you can download the license and module files in the Dashboard
To attract a new audience to the online shop will need the use of multiple sources of advertising. Each of them will require investment of not only money but also time, so it's important to know which source is working effectively, and some spending money in vain. This will help the module "NeoSeo Source of order".
Its main task is the monitoring of the transitions of the client before ordering. You will be able to track referrals from:
search engines (Google, Yandex, etc.);
ads contextual advertising;
social networking;
recommended links (for example, the client threw the link friends);
saved bookmarks.
Receiving this information, You will be able to more efficiently evaluate the performance of their sales and promotion, as well as to invest in advertising sources. The result is a significant savings and feasibility of each investment.
Discussion, questions and answers, support module Source order for OpenCart in this thread on the forum: https://www.opencartmasters.com/forum/19-istochnik-zakaza/.
Additional module benefits
View transition sources.
The ability to display only the domain of the source.
Setting the retention of information after the first client transition.
Determining the time of storage of information after the last visit.
Definition of robots and their blocking.
You are buying:
License cost:
(+2 reward points)
Free[all functions are provided]
[ on 1 domain, unlimited, updates for free ]
Support
Free informational support is provided on the forum
OpenCartMasters.com
- please write your questions there, we will be happy to answer them!
Extended Support
You can purchase extended module support, which includes:
installing and configuring the module on your site;
adapting / styling the module to your template;
2 hours of the programmer for individual modifications of the module, which you can use for 365 days.
Extended support cost: from $ $49.
To order extended support or clarify details, write to our Telegram chat.
System Requirements
System requirements: PHP 5.3 - 7.2, ocmod
ioncube loader: 6.0 and higher
OpenCart: 3.0
License Type: One Domain
Activation method: automatically upon purchase or upon request by mail info@neoseo.com.ua