License link_support Instruction Reviews How to install History
This module runs on OpenCart 3.0.
If you need a module for versions 1.5.x-2.x - please, here you are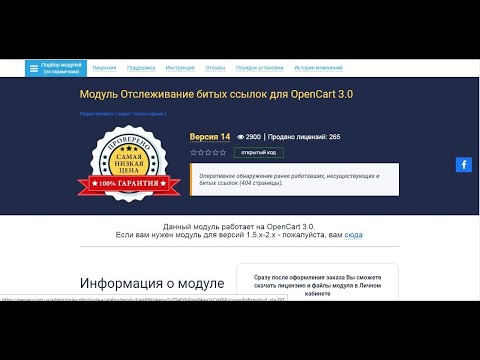 Module information
Immediately after placing the order, you can download the license and module files in the Dashboard
Search engines pay much attention to the bounce rate of the website, in order to reduce it to a minimum, it is necessary not only to take care of a correct and attractive display site content, but also to minimize the number of bad (incorrect) links. Imagine how it would be nice if it was possible to go in single file and instantly see all of the pages, which for some reason is broken or displayed incorrectly? With the tracking module broken links this problem will solve very easily. His task is to keep track of all the passages leading to 404 page or broken link and implement an entry in a special file, by visiting which you can fix the situation. You can create a redirect to another page directly from the administration panel, in order to minimize the number of erroneous links and failure record. This solution will help you get rid of only the internal broken links. They can appear for the following reasons:
The page has been deleted;
Was modified CNC and not made 301-e redirects the new URL;
This article has been YouTube videos, which was later removed;
Was installed link to download the program from the official website, but after updating the program, the developers have changed and the address of the file with the program;
Incorrect operation of some plugins.
Communication with other modules: NeoSeo Manager redirects.
The advantage of the module Track broken links for OpenCart 3.0 - the ability to use Informative widget 404 pagesto quickly learn about the appearance of broken links and fix them.
Discussion, questions and answers, support for module Tracking broken links for OpenCart in this thread on the forum: https://www.opencartmasters.com/forum/24-otslezhivanie-404-h-stranic/.
You are buying:
License cost:
(+2 reward points)
Free[all functions are provided]
[ on 1 domain, unlimited, updates for free ]
Support
Free informational support is provided on the forum
OpenCartMasters.com
- please write your questions there, we will be happy to answer them!
Extended Support
You can purchase extended module support, which includes:
installing and configuring the module on your site;
adapting / styling the module to your template;
2 hours of the programmer for individual modifications of the module, which you can use for 365 days.
Extended support cost: from $ $49.
To order extended support or clarify details, write to our Telegram chat.
System Requirements
System requirements: PHP 5.3 - 7.2 ocmod
ioncube loader: 6.0 and higher
OpenCart: 3.0
License Type: One Domain
Activation method: on automatically at the purchase or at the request of mail info@neoseo.com.ua