License link_support Instruction Reviews How to install History
This module runs on OpenCart 3.0.
If you need a module for versions 2.1.х, 2.3.х - please go here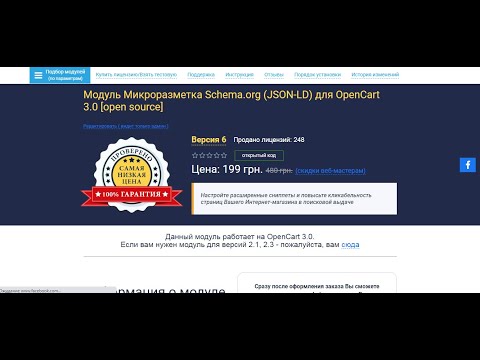 Module information
Immediately after placing the order, you can download the license and module files in the Dashboard
Module "NeoSeo the data markup Schema.org (JSON-LD)" representation improves the website search engine. With this module you can provide a search system for structured information about the page. Whether it's category, brand, product, article or other.
How to install the module
Described in the file readme.txt in the archive of the module.
To improve the operation of the module "NeoSeo the data markup Schema.org (JSON-LD)" it is advisable to clean the built in elements of microdata in the template to avoid mistakes.

Discussion, questions and answers, the support for New mail module for OpenCart in this thread on the forum: https://www.opencartmasters.com/forum/23-mikrorazmetka/.
Additional module benefits
Formatting ld + json, the latest and most advanced microdata in the world.
Increases website visibility in search results.
Increases SEO Conversion Rate.
Faster site indexing.
Better traffic.
Does not change page content.
You are buying:
License cost:
(+2 reward points)
Free[all functions are provided]
[ on 1 domain, unlimited, updates for free ]
Support
Free informational support is provided on the forum
OpenCartMasters.com
- please write your questions there, we will be happy to answer them!
Extended Support
You can purchase extended module support, which includes:
installing and configuring the module on your site;
adapting / styling the module to your template;
2 hours of the programmer for individual modifications of the module, which you can use for 365 days.
Extended support cost: from $ $49.
To order extended support or clarify details, write to our Telegram chat.
System Requirements
System requirements: PHP 5.3 - 7.2, ocmod
ioncube loader: 6.0 and higher
OpenCart: 3.0
Type of license: for one domain and its subdomains
Activation method: automatically upon purchase or upon request by mail info@neoseo.com.ua