License link_support Instruction Reviews How to install History
This module works on OpenCart 3.0
If you need a module for version 1.5-2.3 - please click here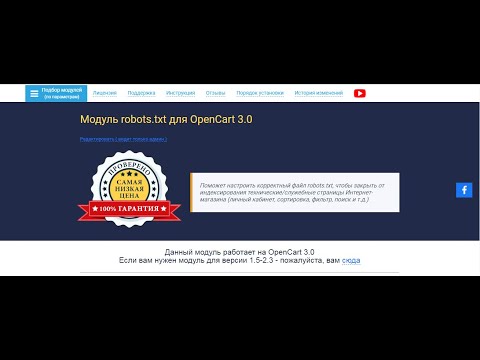 Module information
Immediately after placing the order, you can download the license and module files in the Dashboard
Creating an online store, you should care about how to hide from search engines for duplicate pages (for example, on the website will be multiple items with the same description). Or You want the contents of the specific page is displayed only for users, but for search engines to index it. Ensure Your site is not included in the ban Google or Yandex, you need to create a special file robots.txt. This file is in the root folder of your site and contains information about the pages that you do not want to index.
If You don't want to go to the programmer, to put it another link module need "NeoSeo Generator robots.txt". It allows you to automatically generate a file that you will be able to fill the "forbidden" links themselves using their admin panel.
Attention! The robots.txt generator module is already installed in such developments and does not require an additional purchase:
Discussion, questions and answers, support module Generator robots.txt for OpenCart in this thread on the forum: https://www.opencartmasters.com/forum/22-robotstxt/.
If You want to know about the service turnkey you here.
Additional module benefits
Edit the robots.txt file directly in the administrative zone.
Automatic generation of the contents of a file by clicking on one button.
Multi-store support.
You are buying:
License cost:
(+2 reward points)
Free[all functions are provided]
[ on 1 domain, unlimited, updates for free ]
Support
Free informational support is provided on the forum
OpenCartMasters.com
- please write your questions there, we will be happy to answer them!
Extended Support
You can purchase extended module support, which includes:
installing and configuring the module on your site;
adapting / styling the module to your template;
2 hours of the programmer for individual modifications of the module, which you can use for 365 days.
Extended support cost: from $ $49.
To order extended support or clarify details, write to our Telegram chat.
System Requirements
System requirements: PHP 5.3 - 7.0
ioncube loader: Minimum required version 6.0
OpenCart: 3.0
License type: One domain
Activation method: automatically upon purchase or on request by mail info@neoseo.com.ua