License link_support Instruction Reviews How to install History
This module works on OpenCart 3.0
If you need a module for version 1.5.x-2.x - please, here you are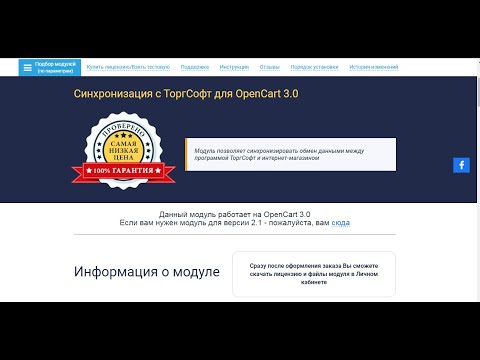 Module information
Immediately after placing the order, you can download the license and module files in the Dashboard
The module "Synchronization with TorgSoft" allows you to accept products with photos and descriptions from the TRS file of the program to the online store.
The module is configured according to strict compliance with the upload format created on the TorgSoft side.
Synchronization of the online store with TorgSoft allows you to upload orders on the server. When connected to the Torgsoft program, it independently picks up files with orders via an FTP connection. Unloading of goods from TorgSoft is carried out on the basis of search and further updating of goods in the store, the search is carried out either by the code from TorgSoft or by the article.
The product is updated:
- prices, promotional prices;
- leftovers;
- options;
- related options.
You are buying:
License cost:
(+8 reward points)
Free[all functions are provided]
[ on 1 domain, unlimited, updates for free ]
Support
Free informational support is provided on the forum
OpenCartMasters.com
- please write your questions there, we will be happy to answer them!
Extended Support
You can purchase extended module support, which includes:
installing and configuring the module on your site;
adapting / styling the module to your template;
2 hours of the programmer for individual modifications of the module, which you can use for 365 days.
Extended support cost: from $ $49.
To order extended support or clarify details, write to our Telegram chat.
System Requirements
System requirements: PHP 5.3 - 7.2, ocmod
ioncube loader: 6.0 and higher
OpenCart: 3.0
License Type: One Domain and its subdomains
Activation method: automatically at the purchase or at the request of mail info@neoseo.com.ua