License link_support Instruction Reviews How to install History
This module works on OpenCart 3.0
If you need a module for version 2.1.x, 2.3.x. - please click here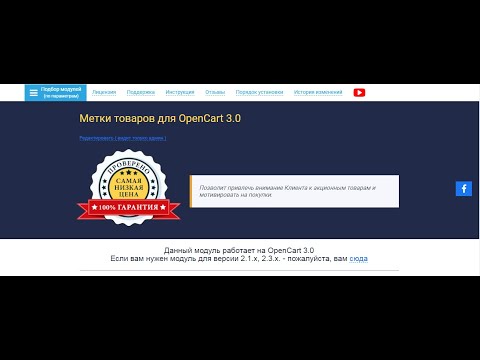 Module information
Immediately after placing the order, you can download the license and module files in the Dashboard
Keep yourself customers using special marks on the products, that allow you to alert on:
free delivery;
store promotions;
last minute deals;
product popularity.
Module "NeoSeo products tags" will quickly attract customer's attention and motivate them to make a purchase.
Additional module benefits
The ability to create an unlimited number of tags.
Support for all languages integrated into the site structure.
The ability to create labels in the form of a flag, corner, ribbon.
Select the location of the label.
When multiple labels are displayed, the module allows you to distribute them by importance.
Assigning the label of any desired color from the color picker.
Selection of the type of list of goods for labeling (manual, new, popular, bestseller, out of stock, in stock).
Specifying a product limit for assigning a label (for a list type: new, popular, bestseller, out of stock, in stock).
Indication of the duration of the label attachment (for the list type: new items).
Specify the number of purchases of goods (for the type of list: bestseller).
Automatic label assignment indicating the percentage of discounts for promotional items and the possibility of a unique setting for this type of label.
The ability to assign tags in the editing of goods.
You are buying:
License cost:
(+2 reward points)
Free[all functions are provided]
[ on 1 domain, unlimited, updates for free ]
Support
Free informational support is provided on the forum
OpenCartMasters.com
- please write your questions there, we will be happy to answer them!
Extended Support
You can purchase extended module support, which includes:
installing and configuring the module on your site;
adapting / styling the module to your template;
2 hours of the programmer for individual modifications of the module, which you can use for 365 days.
Extended support cost: from $ $49.
To order extended support or clarify details, write to our Telegram chat.
System Requirements
System requirements: PHP 5.3 - 7.2 ocmod
ioncube loader: 6.0 and higher
OpenCart: 3.0
License Type: One Domain
Activation method: in the Personal Account after the purchase