License link_support Instruction Reviews How to install History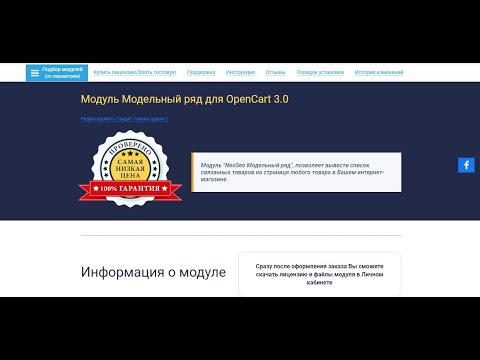 Module information
Immediately after placing the order, you can download the license and module files in the Dashboard
If for some reason the buyer decides, when choosing a purchase on your website, that the product being viewed does not fully satisfy him, the list of related products will allow him to quickly find a more suitable option for himself in your store.
For this purpose, the NeoSeo Model Range module is perfect, which allows you to display a list of related products on the page of any product in your online store.
A similar module is "NeoSeo Product Series". It allows you to display variations of the same product in the product card in different customizable options (color, size, etc.). The NeoSeo Model Range module provides output not of variations of the same product, but of related products that may interest the buyer and increase conversion.
The module is customizable, so you can independently choose which items will be displayed separately for each of the products in the store. In the output block, in addition to the image and the name of the product, the buttons "Buy", "Add to favorites" and "Add to comparison" will be displayed immediately, which will increase the chances that the buyer will make a purchase in your online store.
An example of the module's operation in the showcase is shown in the figure.
Additional module benefits
simple setup;
ability to create a unique model range for each product;
simple transition to cards of other products without using the search on the site, which will increase the possibility of buying goods in your store.
You are buying:
License cost:
(+2 reward points)
Free[all functions are provided]
[ on 1 domain, unlimited, updates for free ]
Support
Free informational support is provided on the forum
OpenCartMasters.com
- please write your questions there, we will be happy to answer them!
Extended Support
You can purchase extended module support, which includes:
installing and configuring the module on your site;
adapting / styling the module to your template;
2 hours of the programmer for individual modifications of the module, which you can use for 365 days.
Extended support cost: from $ $49.
To order extended support or clarify details, write to our Telegram chat.
System Requirements
System requirements: PHP 5.3 - 7.2 ocmod
ioncube loader: 6.0 and higher
OpenCart: 3.0
License type: for one domain and its subdomains
Activation method: in the Personal Account after purchase