License link_support Instruction Reviews How to install History
This module works on OpenCart 3.0.
If you need a module for versions 2.1.х, 2.3.x - please go here​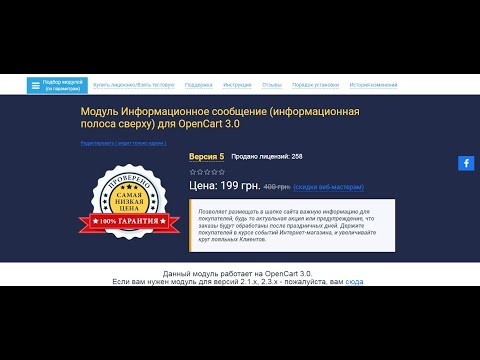 Module information
Immediately after placing the order, you can download the license and module files in the Dashboard
There are reports that you want (or need) to tell everyone all at once. For example, to congratulate the New year to announce the interesting actions or, conversely, to warn of temporary jobs on the website. The module "Information" from NeoSeo'll do it all instead You just set up correctly!
A website header is the most viewable position on the page, because traditionally we learn it from top to bottom. You are able to customize the message under the skin of your online store and the buyer will be able to shut it down as soon as you delve into the essence of the information.
This module is simple and straightforward to install, instructions are in the file readme.txt that will appear after extraction of a module from a zip file.
If You are not very sure about what kind of design "Informational messages" for Your online store, we adapt the layout for You absolutely free!
Discussion, questions and answers, support Information message module for OpenCart in this thread on the forum: https://www.opencartmasters.com/forum/66-informacionnoe-soobschenie/.
Additional module benefits
Multilanguage support.
The buyer's ability to close the message.
Ability to customize the message.
You are buying:
License cost:
(+2 reward points)
Free[all functions are provided]
[ on 1 domain, unlimited, updates for free ]
Support
Free informational support is provided on the forum
OpenCartMasters.com
- please write your questions there, we will be happy to answer them!
Extended Support
You can purchase extended module support, which includes:
installing and configuring the module on your site;
adapting / styling the module to your template;
2 hours of the programmer for individual modifications of the module, which you can use for 365 days.
Extended support cost: from $ $49.
To order extended support or clarify details, write to our Telegram chat.
System Requirements
System requirements: PHP 5.3 - 7.0 ocmod для 2.x
ioncube loader: Minimum required version 6.0
OpenCart: 3.0
License type: For one domain and its subdomains
Activation method: automatically upon purchase or on request by mail info@neoseo.com.ua
Try it for free!
We give everyone a trial license for 14 days!
How to get module files and permanent license in 5 minutes

1

Add the module to the cart, enter the data, place an order and pay online with a bank card

2

We will send a confirmation to the specified email (please check the folder "SPAM")

3

Log in to your account: https://neoseo.com.ua/login/

4

Choose a section "Purchases" (view)

5

Download the latest version of the module files here. (view)

6

Download the license of the module here (view)

7

Install the module according to the order described below
Общий порядок установки модуля (Порядок установки может отличаться для некоторых модулей):
1
Если у вас правильно настроен и подключен ftp, то:
Установите архив целиком через Расширения / Установка расширений.
Если же OpenCart настроен некорректно, то делаем это вручную:
Распакуйте архив с модулем и загрузите содержимое папки upload на сайт.
Если в архиве есть файл install.xml, его переименовываете в install.ocmod.xml и загружаете через Расширения / Установка расширений.
2
Нажмите кнопку "Обновить" на страничке "Расширения / Модификаторы".
3
Установите модуль посредством меню "Расширения / Расширения".
4
Установите права на просмотр модуля нужным пользователям.
5
Скопируйте и вставьте ключ лицензии в настройках модуля на вкладке «Лицензия» в поле «Введите ключ лицензии».