License link_support Instruction Reviews How to install History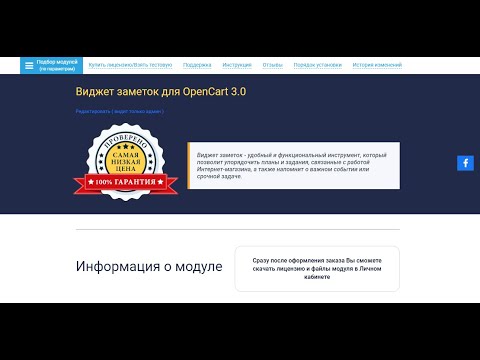 You are buying:
License cost:
(+3 reward points)
[ on 1 domain, unlimited, updates for free ]
Try it for free!
We give everyone a trial license for 14 days!
How to get module files and permanent license in 5 minutes

1

Add the module to the cart, enter the data, place an order and pay online with a bank card

2

We will send a confirmation to the specified email (please check the folder "SPAM")

3

Log in to your account: https://neoseo.com.ua/login/

4

Choose a section "Purchases" (view)

5

Download the latest version of the module files here. (view)

6

Download the license of the module here (view)

7

Install the module according to the order described below
Общий порядок установки модуля (Порядок установки может отличаться для некоторых модулей):
1
Если у вас правильно настроен и подключен ftp, то:
Установите архив целиком через Расширения / Установка расширений.
Если же OpenCart настроен некорректно, то делаем это вручную:
Распакуйте архив с модулем и загрузите содержимое папки upload на сайт.
Если в архиве есть файл install.xml, его переименовываете в install.ocmod.xml и загружаете через Расширения / Установка расширений.
2
Нажмите кнопку "Обновить" на страничке "Расширения / Модификаторы".
3
Установите модуль посредством меню "Расширения / Расширения".
4
Установите права на просмотр модуля нужным пользователям.
5
Скопируйте и вставьте ключ лицензии в настройках модуля на вкладке «Лицензия» в поле «Введите ключ лицензии».